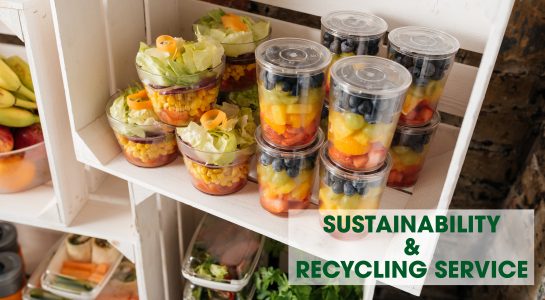 Harfield Sustainability Pledge
At Harfield we understand that sustainability is vital for the future of our children and our children's children.
We are determined to ensure that the actions of Harfield as a business do not have a detrimental impact on our world, customers, colleagues, or community.  We will work hard to deliver products that replace single use or non-recyclable items that are in everyday use by our customers. We will inform our customers of the significant differences that Harfield products have compared to the alternatives and the positive impact small changes in behaviour can have on the environment.
Our commitment to sustainability:
Only supplying products that are long lasting and reusable.
Offering a free recycling service for all Harfield products at the end of their lifecycle.
Reducing single use and reusable packaging.
Recycling all our waste where possible.
New products to meet the replacement of single use, disposable or non-recyclable products on the market.
Reducing our energy and resource usage.
Ensuring our team works efficiently.
Reducing unnecessary business travel.
Choosing company vehicles that have the least impact on the environment – e.g. Electric or hybrid cars.
Increasing efficiency in all areas.
Providing long-term well-paid roles for all our team.
Continuously reviewing and monitoring our performance against these goals.
Download our Sustainability Leaflet here: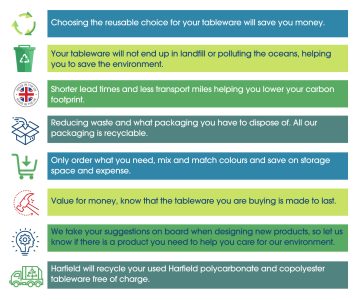 Sustainability is vitally important for us and so we are very pleased to announce that we
are now launching a free recycling service for our customers.
The recycling service is available to all customers* who have purchased Harfield, Roltex,
AMC or Malko products from Harfield direct or via one of our distributors.
*Please note that we can only offer this service to customers on UK Mainland.
How the Recycling Service works:
* Email us at info@harfieldtableware.co.uk to request a recycling form.
* Complete and return your form to info@harfieldtableware.co.uk.
* Box and package the items to be recycled ready for collection. Our courier is not able to tape the boxes, they need to be packed and ready to collect.
* We will arrange for your HARFIELD, Roltex, AMC & Malko products to be collected. Minimum of 100 items per collection.
* Once collected we will sort, weigh and store the items that are to be recycled. Should any items returned to us not have the HARFIELD, Roltex, AMC & Malko names then we will have to issue you with a charge of £25.00 (excluding VAT).
* We will arrange for the items to be recycled.
* The recycled material will then be moulded into new non-food contact products.
* You will receive a certificate for recycling with us.

Download our Recycling Brochure & Form here: